Rigas Logi – plastfönster, trä- och aluminiumfönster - produktion och installation
Nyheter
While small windows come with their own set of advantages, large windows usually tend to gather more pros especially when it comes to bedrooms. To emphasize that point, we decided to put together ten ...
Read more...
Why change your old windows to new triple glazed PVC windows? Scandinavian countries now adding triple-glazed windows, the whole world is looking at benefits of triple glazed glass. A triple-glazed wi...
Read more...
Made in Latvia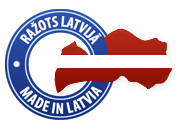 +371 282 282 80
rigaslogi@rigaslogi.lv
Andrejs Berkuta
11.04.2022
I ordered all the windows for the apartment from SIA "Rīgas Logi" and to be honest I am excited about the attitude, the quality and the consultations provided! Everyone started and asked me to assemble Evgeny! Thank you very much!
Arturs Garancis
28.09.2021
Used to glaze a balcony in the 603 series. The work is high quality. Masters responsive! Thanks to Riga Windows for the work!
aiwux83
24.09.2021
Thanks to Riga Windows for a job well done. Masters very well and carefully. It was quite difficult for our private house to dismantle the old window, but in spite of that, the masters did the job neatly, without much damage. Also very good at assembly. Nice to arrive at the agreed times, without undue delay. The other staff was also very responsive, understanding, communication went very well and understood our wishes. Prices are also appropriate. Keep up the good work!
Karīna Švarcbaha
01.09.2021
Thank you to the windows of Riga for the quality work. I am satisfied with both the windows and the work of the master, who performed the necessary finishing work with high quality! The price corresponds to the quality.