Rigas Logi – Muovi-ikkunat, puu- ja alumiinit ikkunat – tuotanto ja asennus
Uutiset
While small windows come with their own set of advantages, large windows usually tend to gather more pros especially when it comes to bedrooms. To emphasize that point, we decided to put together ten ...
Read more...
Why change your old windows to new triple glazed PVC windows? Scandinavian countries now adding triple-glazed windows, the whole world is looking at benefits of triple glazed glass. A triple-glazed wi...
Read more...
Made in Latvia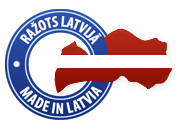 +371 282 282 80
rigaslogi@rigaslogi.lv
Karīna Švarcbaha
01.09.2021
Paldies Rīgas logiem par kvalitatīvo darbu. Esmu apmierināta gan ar logiem, gan meistara darbu, kurš kvalitatīvi veica nepieciešamos apdares darbus! Cena atbilst kvalitātei.
Sergey
29.08.2021
Очень довольны окнами! Изготовили и установили быстро и качественно! Советовал и буду советовать всем этих ребят!!!
Julija Gladiško
20.07.2021
Excellent service, professional approach, real deadlines! Thanks to the girls in the office, the window sizer Alexey, the team of installers Aivar, Arthur and ... another strong man (unfortunately I didn't hear the name)!
Genadijs Haritonovs
26.01.2021
Excellent service, professional approach and adequate price in the city. Many thanks to the manager of the company who professionally approached the issue of our order and helped to determine the appropriate option for windows and doors for our private house. We are grateful to Rīgas Logi that they did not allow us to make a huge mistake and order windows in Poland, as many do, having lived for one year in a house - we really understand how high-quality windows produced in Latvia are and differ from those that we have seen from our friends and acquaintances from Poland ... Thank you very much again. The next order is uniquely yours and nowhere else.