Rigas Logi – Muovi-ikkunat, puu- ja alumiinit ikkunat – tuotanto ja asennus
Made in Latvia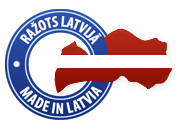 +371 282 282 80
rigaslogi@rigaslogi.lv
The work was done on time and with high quality. Very professional installers and finisher. This company has been around for a long time, I think 15 years. The price may be slightly higher than other similar companies, but you have to pay for the quality. Another company that I wanted to order windows from, although it had a lower price, could not provide a reference of at least one client who could give a positive review.
Aleksandra
01.09.2020
At present, the manufacturer of windows and doors in the Latvian market is not small. We chose the company Rīgas Logi and we have absolutely no regrets. All wishes and requirements were met. The quality of both the product and the work was very satisfactory. Deadlines were met. We are very grateful for the attitude towards work and for us as clients, for a special approach. We want to continue to grow and develop! Thanks!
Sergejs Masaļskis
22.04.2020
We ordered windows for the house from this company and did not regret it! It's nice when the service is provided by professionals, and not by "unfortunate amateurs." We arrived, measured everything, sent a price offer (which turned out to be an order of magnitude more attractive than in other companies - not Poland, but German super fancy windows !!!), ordered and installed. Everything is clear, fast, professional! It is very strange to read about the negative experience in working with this company (apparently a coincidence) - in our case everything is perfect. Special thanks to the head of the company - Alexey! We received answers to all our questions and received really practical recommendations during the construction (unfortunately, the builders did not even bother about many important nuances). Windows for every taste and color (it all depends on the possibilities) - we chose a light gray frame - it just looks unreal!!! And the almost eternal aluminum door to the terrace is another story! Definitely recommend!!
Alīna Žuravļova
30.01.2020
RIGA WINDOWS provide windows of different sizes for different houses The window can be constructed with different shapes and different types of opening. From a small unglazed hole in the cave, the window has grown to the dimensions of the entire building. Today, any window shape is possible, however, the most current and sought-after is still the rectangle.
Aleks Kanash
27.08.2019