Rigas Logi – plastfönster, trä- och aluminiumfönster - produktion och installation
Nyheter
While small windows come with their own set of advantages, large windows usually tend to gather more pros especially when it comes to bedrooms. To emphasize that point, we decided to put together ten ...
Read more...
Why change your old windows to new triple glazed PVC windows? Scandinavian countries now adding triple-glazed windows, the whole world is looking at benefits of triple glazed glass. A triple-glazed wi...
Read more...
Made in Latvia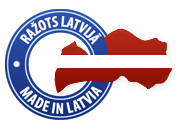 +371 282 282 80
rigaslogi@rigaslogi.lv
Arturs Garancis
28.09.2021
Izmantoju, lai iestiklotu balkonu 603 serijā. Darbs kvaliatīvs. Meistari atsaucīgi! Paldies Rīgas Logiem par darbu!
aiwux83
24.09.2021
Paldies Rīgas Logiem par labi padarītu darbu. Meistari ļoti labi un rūpīgi. Mūsu privātmājai bija diezgan problemātiski demontēt vecos logu, bet neskatoties uz to, meistari akurāti, bez lieliem postījumiem paveica darbu. Arī pie montāžas ļoti kārtīgi. Patīkami, ka ieradās norunātos laikos, bez liekas kavēšanās. Arī pārējais personāls ļoti atsaucīgs, saprotošs, komunikācija noritēja ļoti labi un izprata mūsu vēlmes. Cenas arī atbilstošas. Tā turpināt!
Ricards Jirgensons
22.09.2021
Sveiki! Vēlējos pateikties "Rīgas Logi" par profesionāli un kvalitatīvi paveiktu komandas darbu!!! Paldies.
Karīna Švarcbaha
01.09.2021
Thank you to the windows of Riga for the quality work. I am satisfied with both the windows and the work of the master, who performed the necessary finishing work with high quality! The price corresponds to the quality.